Visit worldtravels.com for the full guide to Paraguay. Build a complete Paraguay travel guide and email to your clients - sign up for a trial subscription of World Travels Pro.
Paraguay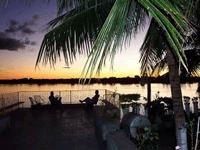 The 'forgotten' country, Paraguay sits landlocked between South America's tourist favourites of Brazil, Argentina and Bolivia, and is generally overlooked by all except the most intrepid travellers and eco-tourists.
Paraguay is unique in South America in that it largely resisted the cultural devastation wrought by the Spanish conquistadors and has retained its native pre-Colombian culture among its Guarani people. Since becoming a republic in 1811 a series of dictatorships have marred its progress, but today Paraguay has a relatively peaceful democracy and is fairly prosperous thanks to its thriving agricultural economy.
Those who take the trouble to fly into the capital, Asuncion, will find a large, relaxed city full of Latin American atmosphere and historical interest. The city's rich 450-year history is reflected in the downtown architecture, including the Cathedral, as well as some modern marvels like the beautiful Lirico Theatre, dozens of night spots, vast shopping malls and some excellent hotels and restaurants.
Rivers are the lifeblood of this country, which has no railways, and a popular trip for tourists is to take a scenic cruise from Asuncion to Concepcion, a town about 130 miles (210km) north of the capital, and back, along the wide, lazy River Paraguay. The more adventurous make expeditions to the western Chaco region, where some fascinating German Mennonite communities and indigenous Guarani people still live as they have for centuries, and hundreds of species of flora and fauna can be discovered among the marshes.
Paraguay is a travel book still to be written, and a country full of treasures yet to be showcased, but those who enjoy exploring unspoilt wilderness without much in the way of modern amenities or tourist infrastructure will find a holiday in Paraguay a truly memorable experience.
Climate
Paraguay, situated on the Tropic of Capricorn, enjoys a hot sub-tropical climate, with long sultry summers and an average annual temperature of 75ºF (24ºC). The east of the country is more humid and wet than the western Chaco region, which is semi-arid.
Money
The currency of Paraguay is the Guarani (PYG). United States dollars are also widely accepted. Visitors are advised to use banks or official Bureaux de Change for exchanging money rather than street exchange kiosks because there are many counterfeit notes in circulation. Travellers cheques are more easily exchanged with proof of purchase receipts. Credit cards are not widely accepted, but some hotels and touristic restaurants take MasterCard, Visa and American Express. There are numerous ATMs in urban centres, which take Cirrus, Maestro and Visa cards, but visitors who use them are advised to be cautious and vigilant because of the risk of crime. Banks are open on weekdays only between 7.30am and 11am.
Passport Visa
Those requiring visas must apply to the nearest Paraguayan consulate. Travellers need to have six months' validity on their passports. Immigration officials may impose restrictions other than those officially stated. Vaccinations against yellow fever are required for passengers arriving within six days of leaving or transiting infected areas.
Entry Requirements
United States citizens require a passport and a visa to enter Paraguay.
British citizens require a passport and a visa to enter Paraguay.
Canadians require a passport and a visa to enter Paraguay.
Australians require a passport and a visa to enter Paraguay.
South African citizens require a passport and a visa to enter Paraguay.
Citizens of Ireland require a passport and a visa to enter Paraguay.
New Zealand citizens require a passport and a visa to enter Paraguay.
Health
Paraguay has several health risks for visitors, especially those who intend touring the countryside and having contact with the local population. Typhoid vaccination is recommended for all except those who do not plan to eat outside of major restaurants and hotels, or cruise passengers, as diseases from food and water are the leading cause of illness in travellers, and the most common cause of 'traveller's diarrhoea'. Visitors should not drink water unless it has been purified, and avoid any food that is not freshly prepared and well cooked. Be cautious of food and beverages from street vendors. A Yellow fever vaccination is compulsory for anyone arriving from an infected country, and recommended for all travellers. Malaria is endemic to certain regions of Paraguay, namely the departments of Alto Paraná, Caaguazú, and Canendiyú. A major outbreak of dengue fever occurred in early 2007, with many deaths having been reported, including in the capital, Asuncion. Dengue fever is on the increase. Insect protection measures are essential, and malaria prevention tablets recommended. Hospitals, pharmacies and medical facilities in Asuncion are adequate, but elsewhere in the country are unsanitary and under-equipped. In the event of serious illness, evacuation to a country with better facilities will be necessary, therefore travel health insurance is highly recommended. Doctors and hospitals usually expect payment in cash.
Embassy Consulates
Embassy of Paraguay, Washington DC, United States: +1 202 483 6960.
Embassy of Paraguay, London, United Kingdom: +44 (0)20 7610 4180.
Embassy of Paraguay, Ottawa, Canada: +1 613 567 1283.
Consulate-General of Paraguay, Canberra, Australia: +61 (0)2 6156 4522.
Embassy of Paraguay, Pretoria, South Africa: +27 (0)12 347 1047.
Foreign Embassies
United States Embassy, Asuncion: +595 (0)21 213 715.
United Kingdom Honorary Consulate, Asuncion: +595 (0)21 210 405.
Honorary Consulate of Canada, Asuncion: +595 (0)21 227 207.
Australian Embassy, Buenos Aires, Argentina (also responsible for Paraguay): +54 (0)11 4779 3500.
South African Embassy, Buenos Aires, Argentina (also responsible for Paraguay): +54 (0)11 4317 2900.
New Zealand Embassy, Buenos Aires, Argentina (also responsible for Paraguay): +54 (0)11 4328 0747.