Airport
Singapore Changi Airport
IATA Code:
SIN
Location:
The airport is located 14 miles (23km) from the city.
Time:
GMT +8.
Contacts:
Tel: +65 6595 6868.
Transfer between terminals:
A free Skytrain runs between the three terminals.
Transfer to the city:
The MRT train departs from Changi Airport MRT Station, located under Terminals 2 and 3. Trains depart from 5.30am to midnight, cost S$2.70 and take around 27 minutes. A public bus service to the city has regular departures from 6am to midnight, and can be found in the lower levels of each terminal. The 1 hour journey costs S$2. In addition there is an airport shuttle service between the airport and the city centre and most hotels in Singapore; the buses leave when all six seats have been filled or every 15 to 30 minutes. The cost is S$9 per adult, S$6 per child.
Taxis:
Taxis to Singapore central are available from outside the arrivals hall of both terminals; the fare to the city centre is about S$25 with a travel time of around 25 minutes. Bookings can be made at the airport shuttle counters; the MaxiCab driver is paid directly. The taxi stand can be found outside the Arrival Hall on Level 1 in Terminal 1 and at the end of the Arrival Hall on Level 1 in Terminal 2 (South Wing). For comprehensive taxi information, click here.
Car rental:
Avis, Budget and Hertz are all represented at the airport, however for visitors staying in the city it's best to take taxis or the excellent public transport system.
Facilities:
Changi Airport has a wide range of facilities, including ATMs, bureaux de change, business services, airline lounges/travel clubs, duty-free shops, child facilities and multimedia payphones for Internet and e-mails. Facilities for disabled passengers include a 24-hour wheelchair rental service. Other facilities include a mini-supermarket, snack bars and restaurants, a putting green, gym, rooftop pool, hairdresser, laundry service, karaoke lounge, Science Discovery Centre, smoking room, prayer room and a post office. The new terminal 3 is a 'green' terminal with natural skylighting, a butterfly garden, koi ponds and over 200 species of foliage, including a five-level high wall of hanging plants.
Parking:
Short- and long-term parking is available.
Departure tax:
None.
Website:
www.changiairport.com.sg
Visit worldtravels.com for the full guide to Singapore. Build a complete Singapore travel guide and email to your clients - sign up for a trial subscription of World Travels Pro.
Singapore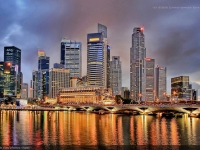 Beguiling Singapore is a modern city-state embracing economic progress against the backdrop of age-old tradition. The customs that underpin community life are created out of a cultural mix that includes predominantly Chinese, Indian and Malay ethnic groups.
Singapore is an island off the southern tip of Malaysia, linked to it by a causeway. It evolved from a sleepy fishing village in the early 1900s to become one of Asia's economic tigers. Sir Thomas Stamford Raffles landed on Singapore's northern bank in 1819 and felt that its location made it ideal as a trading station. From here Singapore's landscape was transformed by British colonial rule, Japanese occupation, Communist insurrection and finally, independence. Since becoming a republic in 1965 the island has experienced increased prosperity and exponential economic growth. Shimmering skyscrapers tower above the slick financial districts and elegant colonial buildings preserve a lingering old-world charm.
Singapore's full calendar of events showcases a spectrum of cultural celebrations and shopping activities. The early summer months bustle in anticipation of the Singapore Sale - a time when tourists can cash in on the competitive prices of electronic equipment, jewellery and other merchandise. The business activity thrives amidst the celebration of Chinese, Hindu and Muslim festivals that punctuate the year with their colourful representations. These include the Chinese New Year, Ramadan, Hari Raya Puasa, Vesak Day, the Dragon Boat Festival, Festival of the Hungry Ghosts and Thaipusam.
The core of downtown Singapore is formed by the Colonial District, embellished by cathedrals and cricket lawns. The notable sites of the area include the Empress Place Building and the luxurious Raffles Hotel. Although most of old Singapore has been demolished to make way for the modern city, many major landmarks within the Colonial district have been preserved. The surrounding ethnic enclaves of Little India, Chinatown and the Arab Quarters also provide glimpses into the traditions that have sustained their respective communities through the centuries.