Visit worldtravels.com for the full guide to Bulgaria. Build a complete Bulgaria travel guide and email to your clients - sign up for a trial subscription of World Travels Pro.
Bulgaria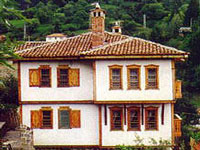 Bulgaria is a beautiful country, with a sprinkling of mountains, it is small in size but rich in ancient culture, scenic splendour, friendly people and old-fashioned warmth and hospitality.
Situated in the south east of Europe on the Balkan Peninsula, Bulgaria is not as much a tourist destination as its Greek and Turkish neighbours to the south are. This despite the popularity of its Black Sea resorts, which are scenically captivating with their fine sandy beaches, sunny climate and safe seas and wonderfully inexpensive too.
Although better known for its sea resorts, the essential character of the country is to be found in its spectacular mountainous regions. The six very different ranges vary from high, snow-covered peaks to gentle green slopes and forests, harbouring thermal springs and mineral spas, and valleys where the air bears the fragrance of flowers and herbs. The Valley of Roses lies in the heart of the country and is one of the largest producers of rose oil in the world, giving root to Bulgaria's soubriquet, 'Land of Roses'. At the foot of the Vitosha Mountains lies the laid back capital city, Sofia, boasting a great number of architectural monuments and museums. The rugged heights of the Rila and Pirin mountains form a spectacular setting for ski resorts, as well as the famous Rila Monastery and the majestic landscape of the Pirin National Park, a UNESCO World Heritage site. Crossing the entire country is the Balkan Range, a 329-mile (530km) chain that offers some of the best hiking in Europe.
As varied as the different mountain ranges are the people who dwell in them, with distinctive customs, crafts and colourful festivals, folklore, religious beliefs and speech. Small picturesque villages welcome guests with typical warm-hearted Bulgarian hospitality, sharing age-old traditions and traditional cooking, and a delight in their pastoral environment.
Bulgaria's history is displayed across the country in its old towns, ancient Thracian relics and treasures, decorated churches and monasteries, and in the rustic settlements that have preserved the traditional beliefs of its people. One of the country's biggest assets for visitors is its variety, but whatever aspect one chooses to explore, there is always the assurance of a warm welcome.
Climate
The weather in Bulgaria is not too extreme. Unless you visit for skiing, summer is the most comfortable time in Bulgaria, with low humidity and temperatures averaging 75°F (24°C); winter temperatures average around 32°F (0°C).
Money
The official currency is the Lev (BGN), which is divided into 100 stotinki. The Lev is tied to the Euro at a fixed rate of EUR1 = 1.955 lev. Bulgaria has strict currency regulations. If you enter Bulgaria with cash of any currency amounting to the equivalent of 8,000 leva or more, you must declare it to customs officials. Foreign currency may be exchanged in banks, hotels or at one of the numerous bureaux de change, however due to a common practice of misleading rates of exchange it is better to go to banks or hotels to change money. A receipt called a bordereauxis issued when exchanging currency, indicating the amount that will be given, and it must be kept until departure. Not all banks accept travellers cheques and those that do usually charge a 5% commission. Major international credit cards are increasingly becoming accepted by tourist hotels, upmarket shops and restaurants, travel agents and car rental agents, but Bulgaria is still largely a cash economy. There are ATMs in the main cities and at Black Sea resorts.
Passport Visa
Visitors must have proof of sufficient funds or onward or return tickets in addition to other documents needed for the next destination. Valid health insurance is required. All visitors to Bulgaria, other than EU nationals, must register as foreigners at a local police station within five days of arrival. This registration is usually done as a matter of course through the hotel or accommodation establishment. Visitors are advised to check this, as a dated registration slip has to be submitted when leaving the country. Immigration and entry regulations are very strictly enforced. Passports of all visitors should be valid for at least three months after leaving Bulgaria for those requiring a visa, and three months on entry for visa exempt nationals other than those from EU countries, whose passports must be valid for period of stay. Visitors should be prepared to show proof of valid medical insurance upon request.
Entry Requirements
Citizens of the USA do not need a visa to visit Bulgaria for a period of up to 90 days. Passports must be valid for at least three months after entry.
British Citizens do not need a visa to visit Bulgaria for a period of up to 90 days. Other passport holders should check with the London Bulgarian Embassy whether a visa is required or not (the maximum stay under a visa exception is six months). A valid passport is required.
Canadians do not need a visa to visit Bulgaria for a period of up to 90 days. A passport valid for at least three months after entry is required.
Australians do not need a visa to visit Bulgaria for a period of up to 90 days. A passport valid for at least three months after entry is required.
South Africans need a visa to enter Bulgaria. A passport valid for at least three months after leaving Bulgaria is required and a visa will only be issued if blank pages are available.
Irish nationals do not need a visa to visit Bulgaria for a period of up to 90 days. A passport valid for three months is required.
New Zealanders do not require a visa for a maximum stay of 90 days. A valid passport valid for at least three months on entry is required.
Health
Bulgaria poses few health risks and there are no vaccinations required for entry. Travellers to Bulgaria are not at risk of contracting bird flu, although close contact with caged, wild and domestic birds should be avoided and all poultry and egg dishes well cooked as a precaution. Medical treatment can be expensive and payment is expected immediately. Facilities in local hospitals are basic and specialised treatment or equipment may not be freely available. Medical insurance, with provision for emergency evacuation, is therefore vital. Travellers from the UK should also hold a European Health Insurance Card (EHIC) in case of emergency medical treatment.
Embassy Consulates
Bulgarian Embassy, Washington DC, United States: +1 202 387 0174.
Bulgarian Embassy, London, United Kingdom: +44 (0)20 7584 9400.
Bulgarian Embassy, Ottawa, Canada: +1 613 789 3215.
Bulgarian Embassy, Canberra, Australia: +61 (0)2 6286 9711.
Bulgarian Embassy, Pretoria, South Africa: +27 (0)12 342 3720/1.
Bulgarian Embassy, Dublin, Ireland: +353 (0)1 660 3293.
Foreign Embassies
United States Embassy, Sofia: +359 (0)2 937 5100.
British Embassy, Sofia: +359 (0)2 933 9222.
Canadian Consulate, Sofia: +359 (0)2 969 9710.
Australian Consulate, Sofia: +359 (0)2 946 1334.
South African Embassy, Sofia: + 359 (2) 939 5015
Irish Embassy, Sofia: +359 (0)2 985 3425.