Visit worldtravels.com for the full guide to Romania. Build a complete Romania travel guide and email to your clients - sign up for a trial subscription of World Travels Pro.
Romania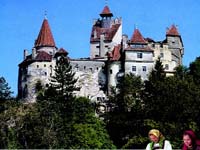 Romania is slowly emerging from the effects of being one of the most repressed countries under communism and having suffered the megalomaniac dictatorship of Nicolae Ceausescu whose rule left the country in the depths of poverty. Travel in Romania is rewarding yet habitually challenging as much of its charisma lies in the more remote regions, and optimistic plans are often frustratingly slowed down by practical realities. Despite this, Romania is rapidly regaining its identity as a popular tourist destination and has plenty to offer the international traveller.
The charms of Transylvania lure people with the imagery of haunted forests, medieval towns, vampires, turreted cliff-top castles, and the legends of Dracula. In addition to its medieval castles and enchanting historic towns, the region also offers the dramatic alpine scenery of the Carpathian Mountains with spectacular skiing and undisturbed hiking opportunities.
The country's geography is diverse: from mountains, rolling hills and rural farmlands to white sandy beaches and resorts along the Black Sea Coast. Dotting the natural landscape are rustic villages where local people live as they have done for the past 100 years. There is an abundance of religious architecture - including the exquisitely painted monasteries of Bucovina - and there are ancient churches and cities bursting with historic architecture. The capital city, Bucharest, is re-inventing itself following decades of neglect by the ruling communists and its damaged architecture is slowly being restored to its original glory. It has elegant restaurants, a revitalised nightlife and cultural attractions that are becoming integral to this new image.
A visit to Romania will leave few impassive, offering a refreshingly different culture to elsewhere in Europe. The mix of quaint medieval towns and castles, drab cities striving for Western modernism, and the diverse rural landscape seemingly untouched by modern history, offers a fascinating kaleidoscope of opportunities to explore. Romania appeals to visitors because it is so different. It has one foot firmly placed in the past while the other one is stretching forward in an effort to keep up with the progress of the modern world.
Climate
Romania has a temperate climate with four distinct seasons. Spring and autumn are cool and pleasant, making May and June, and September and October the best months to visit. Summers are hot from July to August and winters are harsh and very cold between December and March, with snow falling throughout most of the country. Spring and summer are the wettest seasons, but rain can be expected throughout the year.
Money
The Leu (RON) is the official currency, which is divided into 100 bani. Money may be exchanged at banks, international airports, hotels or authorised exchange offices called 'casa de schimb' or 'birou de schimb valutar'. ATMs are available at large banks, airports and shopping centres in cities. American Express, MasterCard and Visa are accepted in the main cities. Travellers cheques, preferably in Euros, can be cashed in large banks, some hotels and certain exchange offices in Bucharest but commission is high. It is recommended to travel with some Euros in cash in case of difficulty using credit cards or travellers cheques. US Dollars are also accepted fairly widely.
Passport Visa
All passports must be valid for period of intended stay. Visitors must hold all documents required for further travel, onward or return tickets, sufficient funds for period of stay, and proof of reserved accommodation. It is highly recommended that passports have at least six months validity remaining after your intended date of departure from your travel destination. Immigration officials often apply different rules to those stated by travel agents and official sources.
Entry Requirements
United States nationals require a valid passport, but no visa for stays of up to 90 days.
UK nationals require a valid passport but no visa for stays of up to 90 days.
Canadian nationals require a valid passport, but no visa for stays of up to 90 days.
Australian nationals require a valid passport, but no visa for stays of up to 90 days.
South Africans require a valid passport and a visa to enter Romania. Visa exemptions include those travelling through Romania for a maximum period of five days and continuing their journey to a third country, provided holding a Schengen visa, or a visa issued by Bulgaria or Cyprus. South African temporary passports are not accepted by the Romanian government.
Irish nationals require a valid passport but no visa.
New Zealand nationals require a valid passport, but no visa for stays of up to 90 days.
Health
Medical facilities in Bucharest are good, but poor in the smaller towns and basic medical supplies are often in short supply. There is a reciprocal health agreement with the UK and most EU countries, whose citizens are entitled to free or low-cost emergency medical treatment on presentation of a European Health Insurance Card (EHIC), but travel health insurance is strongly advised. There have been a number of Hepatitis A cases in Romania and visitors are advised to seek medical advice about inoculations before travelling. Tap water is safe to drink, although bottled water is widely available. Stray dogs carry rabies and should be avoided. Cases of Avian bird flu have been reported in the country, but no human incidences have been reported. The risk for travellers is very low, but visitors should avoid any contact with domestic, caged or wild birds and ensure that eggs and poultry dishes are well cooked.
Embassy Consulates
Embassy of Romania, Washington DC, United States: +1 202 332 4846.
Embassy of Romania, London, United Kingdom: +44 (0)20 7937 9666.
Embassy of Romania, Ottawa, Canada: +1 613 789 3709.
Embassy of Romania, Canberra, Australia: +61 (0)2 6286 2343.
Embassy of Romania, Pretoria, South Africa: +27 (0)12 460 6940.
Embassy of Romania, Dublin, Ireland: +353 (0)1 668 1085.
Consulate of Romania, Wellington, New Zealand: +64 (0)4 476 6883.
Foreign Embassies
United States Embassy, Bucharest: +40 (0)21 200 3300.
British Embassy, Bucharest: +40 (0)21 201 7200.
Canadian Embassy, Bucharest: +40 (0)21 307 5000.
Australian Embassy, Belgrade, Serbia (also responsible for Romania): +381 (11) 330 3400.
South African Embassy, Bucharest: +40 (0)21 313 3725.
Irish Embassy, Bucharest: +40 (0)21 310 2131.