Airport
Ministro Pistarini International Airport
IATA Code:
EZE
Location:
The airport is situated 22 miles (35km) to the southwest of Buenos Aires.
Time:
GMT -3.
Contacts:
Tel: +54 (0)11 5480 6111.
Transfer between terminals:
The two terminals are linked by a covered walkway.
Transfer to the city:
Manuel Tienda Leon run a shuttle-bus every 30 minutes to Madero Terminal in the city centre, where smaller shuttle buses connect passengers to final destinations. Rides to the city centre are about 40 minutes and cost approximately US$11 (Tel: (+54 11) 0810-888-5366). Public buses are cheaper but can take up to two hours to the city centre. Without reservations metered taxis are available outside the terminal building. Reservations can be made from official booths just outside the customs area and cost between US$9 and US$13; unofficial taxis should be avoided. Private cars, also called remis, are a cheap and reliable option with fixed pre-set prices. They available for hire on the lower level of both terminals or by phone (Tel: (54 11) 5480-0196) and cost up from US$7.
Taxis:
Metered taxis are available outside the terminal buildings of Buenos Aires Ezeiza International Airport and cost between ARS35 and ARS50. Taxis have reservation booths inside the airport and visitors should confirm the price before making the reservation. Avoid touts and unlicensed taxis.
Car rental:
Car rental companies have desks in Terminal A.
Facilities:
There are several shops, pharmacies, restaurants, cafes and bars, as well as duty-free shopping. Bureaux de change and ATMs are available as well as a 24-hour bank. There is a left-luggage facility and a tourist information desk in Terminal A. Other facilities include mobile phone hire, medical service, a VIP lounge and Internet access. Facilities for the disabled are good.
Parking:
Long and short-term parking is available in both a multi-level covered parking garage (adjacent to Terminal A) and an open-air lot.
Departure tax:
Airport tax: US$18 (international flights), US$8 (regional and Uruguay), $6.05 (domestic). Security tax: US$2.50 (international), $1 (domestic). Immigration tax (international flights): US$10.
Website:
www.aa2000.com.ar
Visit worldtravels.com for the full guide to Buenos Aires. Build a complete Buenos Aires travel guide and email to your clients - sign up for a trial subscription of World Travels Pro.
Buenos Aires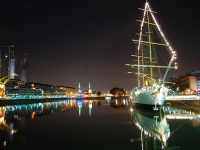 Downtown Buenos Aires is as sophisticated as any European city, with its wide avenues, fine colonial architecture and rows of pavement cafes. The city was built by French, Italian and Spanish immigrants and the Porteños (locals) still regard themselves as more European than South American. Travellers walking through the leafy parks and boulevards could be forgiven for thinking they were in Madrid, Paris or Milan.
Buenos Aires was founded on the shores of the Rio de la Plata in 1570 and was named after the patron saint of sailors for the good wind or buen aire.The city remained a colonial backwater for 200 years while the Spanish concentrated their attentions on wealthier Peru. During this time Buenos Aires became a thriving centre for smuggling between South America and Europe. Dissatisfaction with Spanish economic and political dominance escalated to boiling point and culminated in the revolution of May 1810 and finally to independence in 1816. Its history since then has been dogged by military coups and political mismanagement; the consequences of which are growing disaffection with the government and widespread poverty, as is evident in the sprawling shantytowns on the city's outskirts.
This turbulent history has not managed to stifle the indomitable spirit of the Porteños whose passion, charm and vibrancy have forged this great city, a place in which the fire of Evita's soul and the allure of the tango endure. A holiday in Buenos Aires is a journey of discovering the fire that pervades Argentine culture, in everything from food and conversation to music, art and dance.