Airport
Sofia International Airport
IATA Code:
SOF
Location:
The airport is situated six miles (10km) east of Sofia.
Time:
Local time is GMT +2 (GMT +3 from April to September).
Contacts:
Tel: +359 (0)2 937 2211/2 (international flights departures and arrivals).
Transfer to the city:
Regular bus service 84 runs on a frequent schedule day and night from the bus station close to Arrivals. Taxis are available, and passengers are advised to use O.K. SUPERTRANS taxis from outside the arrivals hall; their enquiries desk is located inside the arrivals hall. Most hotels and tourist resorts run their own airport shuttles.
Car rental:
Avis, Hertz, Budget, Tani Rent and Sixt have desks located in the arrivals hall.
Facilities:
The airport is well equipped with banks, bureau de change, ATMs, restaurants, cafeterias and bars, duty-free shopping, a chemist, travel agency, tourist information desk and first aid facilities. There is also a business lounge with Internet access, and a luggage-wrapping machine at departures.
Parking:
There is 24-hour short and long-term parking available in front of the terminal buildings.
Departure tax:
US$20 (nationals of the USA only).
Website:
www.sofia-airport.bg
Visit worldtravels.com for the full guide to Sofia. Build a complete Sofia travel guide and email to your clients - sign up for a trial subscription of World Travels Pro.
Sofia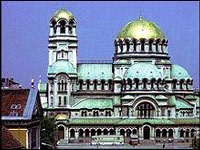 Located in the Sofia Valley, the capital city of Bulgaria lies at the foot of the Vitosha and Lyulin Mountains, and is the centre of the country's political, business and cultural life.
Founded over 7,000 years ago around numerous hot and cold mineral springs, which are still available today, Sofia has flourished and declined around a variety of civilisations. It is one of the oldest settlements in Europe and numerous archaeological, cultural and historical monuments from its rich Thracian, Byzantine, Roman, Slav and Turkish history have been preserved among the modern edifices, the blend of the new and the old lending a charming quality to the capital.
Despite its modern, cosmopolitan nature, Sofia has a laid back atmosphere and the proximity of Mount Vitosha, offering a myriad of recreational opportunities on the city's doorstep, adds to the relaxed feel of the city. Like any capital city, Sofia also has a wealth of museums and galleries, and boasts plenty of cultural entertainment.