Airport
Venice Marco Polo Airport
IATA Code:
VCE
Location:
The airport is located 5 miles (8km) north of Venice.
Time:
GMT +1 (GMT +2 between the last Sunday in March and the Saturday before the last Sunday in September).
Contacts:
+39 041 260 6111 or +39 041 260 6400.
Transfer between terminals:
Not applicable, as there is only one terminal building.
Transfer to the city:
Train: The Mestre-Venice and Venice-Santa Lucia stations are easily accessible from the airport by buses that leave from the airport at 20-minute intervals. Taxis: Taxis leave from outside the arrivals level of the terminal. The fare for a trip into Venice will not be less than EUR30. Bus: Buses going to the Venice-Santa Lucia railways station via Piazzale Roma. The ATVO FlyBus leave roughly every three hours from 6am until 11:40pm daily. Tickets cost EUR7 each and depart from Stand Three. ACTV buses leave the airport far more regularly. Bus Nos. 4 and 5 operate between Marco Polo Airport and central Venice. Bus No. 4 is the night bus and leaves the airport at 10:07pm, 11:07pm and 11:47pm from Monday to Saturday. Bus No. 5 operates between 4:08am and 11:10 at 10-20 minute intervals from Monday to Saturday. On Sundays bus service operates between 4:08am and 11:10pm at 40-minute intervals. Boat: The Alilaguna boats are a faster way into central Venice. There are four different lines: red, blue, orange and yellow. Prices range from EUR7-15 depending upon your destination. View the Alilaguna website for specific stops and to buy discounted tickets online. The dock is a 5-10 minute walk from the airport.
Taxis:
Both regular and water taxis are available from the airport. An authorised (yellow) taxi cab to the city centre takes between 40 minutes and an hour, and costs upwards of EUR30.
Car rental:
The car rental car park is just after the short-term car park in front of the terminal building. Rental desks are in the arrivals hall. Car hire companies with offices at the airport include Europa, Maggiore, Sixt, Avis, Europcar, Hertz, Thrifty, Locauto and Budget.
Facilities:
Money and communications: ATMs, currency exchange facilities, a post office, banks and a tax-free customs service are all available at the airport. Luggage: Luggage trolleys are available in the terminal. Lost and found is located on the ground floor of the terminal and is open from 8am until 12:30am daily. Conference and business: Business services are available on the second floor at the Marco Polo Club. Entrance is currently EUR22 per person and the facility is open from 5am until 10pm, daily. The Marco Polo Club is equipped with telephone, internet, TVs, video and fax facilities, as well as workstations and a bar. The Travalax business centre, also on the second floor, has meeting rooms, conference facilities and business services such as faxing, photocopying, filing, telephones, work stations, audiovisual equipment and translation services available. Other facilities: Prayer room, VIP lounges, travel agencies, baby-changing facilities, a family area, a spa and first aid facilities are all available. Wi-Fi: Wi-fi is only provided at certain areas within the terminal. The Schengen departures area, VIP Lounge, check-in area and Brek Restaurant all currently have wi-fi availability. Passengers wishing to use the service will need to buy a prepaid card from the Linkem shopping website and enter a prepaid username and pin. Packages start at EUR6.50 for an hour. Information: Information points and hospitality desks are all available at the airport. Staff are more comfortable speaking Italian, but most understand English as well. Shopping: With shops like La Perla, Swatch, Vittorio and Raggi di Seta, shopping at Venice Marco Polo Airport is designed to encourage passengers to part with those last few holiday euros. The Elite duty-free shop is well-stocked and there are plenty more tempting gift, souvenir, fashion and food shopping opportunities throughout the airport. Food and Drink: There are plenty of restaurants, bars and cafés at the airport both before and after check-in. The departures area has Bricco Café and de Canto Wine Bar as well as many other options, while the has Café Marco Polo, which is perfect for a quick coffee or sandwich before going through all the security checks.
Parking:
There are loads of parking options at Venice Marco Polo Airport, and there's even a place where passengers can park their motorboats. A Stop & Go area is located in front of the terminal and is free for the first ten minutes, EUR2 for 30 minutes and EUR12 for an hour. Car Parks 3, 4, and 5 are long-stay options. Park 3 costs EUR7.50 per day in the winter (EUR9 in summer). Park 4 is EUR5 per day (EUR6.50 in summer). Park 5 is EUR9 (EUR11 in summer). P1 and P2 are short-stay lots and charges start at EUR5 for two hours, EUR8 for six hours and EUR16 for the first day; EUR29 for two days and EUR83 for a week. All the car parks are within walking distance of the terminal. However, the long-term lots are slightly further away from the terminal than the short-term ones.
Departure tax:
None.
Website:
www.veniceairport.it
Rimini-Miramare Airport
IATA Code:
RMI
Location:
5 miles (8km) southeast of Rimini
Time:
GMT +1 (GMT +2 between the last Sunday in March and the Saturday before the last Sunday in September).
Contacts:
+39 0541 715 755
Transfer to the city:
There is regular bus and train service to the airport from the downtown Rimini Railway Station.
Taxis:
There are metred taxis available outside the terminal. Average fares are as follows: Rimini EUR17, Miramare EUR12, San Marino EUR45, Milan EUR75. Tariffs are increased at night.
Car rental:
Avis, Hertz, Europcar, Maggiore, Travel Car and Sixt operate car hire facilities from Rimini Airport.
Facilities:
The terminal contains restaurants, duty-free shopping, banks, ATMs, and information services.
Parking:
There is short and long-term parking available at the airport. Parking is free up to 20 minutes, hourly and daily rates vary. See the airport website for detailed rates.
Departure tax:
None
Website:
www.riminiairport.com
Visit worldtravels.com for the full guide to Venice. Build a complete Venice travel guide and email to your clients - sign up for a trial subscription of World Travels Pro.
Venice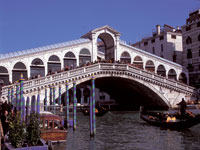 Elegant Venetian buildings and palaces peer over the ancient maze of narrow streets and labyrinth of canals that make up this unique city. Tourists naturally flock to Venice to experience its inimitable charm. The downside of this can be felt in the narrow streets and cramped piazzas of its sought-after areas. A good way to get to know a more personal side of Venice is to saunter through its romantic back streets and residential quarters.
Venice rests on one of a series of 117 islands distributed throughout the Venetian lagoon, at the northern end of the Adriatic Sea. This strategic position conferred on Venice economic and defensive advantages over its trading rivals. As the wealth of the city increased and its population grew, the composition of the city grew ever more dense and today only a handful of the islets that constitute the historic centre are not entirely developed.
The historic centre is divided into six quarters ( sestieri). These are: San Marco, Dorsoduro, San Polo, Santa Croce, Cannaregio and Castello. The city's main thoroughfare is the Grand Canal that intersects each district as it meanders through the length of Venice, from the railway station to San Marco. An alternative to walking the bewildering streets of Venice is to cruise the waterways onboard the motorboat buses known as vaporetti. These are the less romantic but also less expensive substitutes for the famous gondolas.
Venice extends beyond its six sestierito the islands of Murano, Burano and Torcello. These are known for glass and lace-making respectively, and Torcello is noted for the magnificent Byzantine Basilica of Santa Maria Assunta that rests on its soil. Trips by boat to the islands provide a pleasant diversion from the busier historic quarters.