Airport
Narita International Airport
IATA Code:
NRT
Location:
The airport is located 40 miles (66km) north-east of Tokyo.
Time:
GMT +9.
Contacts:
Switchboard: + 81 (0)476 322 802. Flight Information: +81 (0)476 34 5000.
Transfer between terminals:
A free shuttle bus connects the two terminals.
Transfer to the city:
Trains, buses and taxis connect to the city centre. Each airport terminal has a separate railway station. Terminal one uses Narita Airport Station and Terminal 2 is Airport Terminal 2 Station. Different train services on the JR or Keisei lines serve Tokyo and surrounding destinations. The journey to Tokyo takes one hour; if possible book a seat in advance but remember to use the correct departing airport station. Terminal 1 Tel: JR +81 (0)476-33-1655, and Keisei: +81 (0)476-32-8501. From Terminal 2 for JR and Keisei +81 (0)476-34-6005 and +81 (0)476-34-8763. Depending on line fares are roughly US$30. Buses connect to the domestic airport and hotels in the city centre; the journey takes between one and two hours from the pick up at departure lobbies of terminals 1 and 2. Tickets should be bought at the ticket counter for about US$31. Fixed fare taxis are available and a concierge directs passengers to available cars. Fares are determined by city zone but are between US$150 and US$240 (Tel: +81 (0)476-34-8755) . The tourist information desk in the arrivals hall can help travellers with their transport needs.
Taxis:
Fixed fare taxis are available from outside the airport's arrival area, and there are assistants available at the designated fixed fare taxi stands in the airport. Fares into the city start at JPY 15,000.
Car rental:
Rental cars can be organised at the airport, though most visitors wisely avoid driving in Tokyo and instead take the efficient public transport.
Facilities:
The facilities at New Tokyo Airport are extensive and include shops (including duty-free), banks, ATMs, currency exchange bureaux, massage, baby changing areas, a pet hotel, beauty salons and left luggage. A variety of restaurants catering for Japanese, Chinese and Western tastes are available, including a new revolving Sushi Bar. Both terminals have shower facilities and Day Rooms (bedrooms which can be hired by the hour). There are Internet cafes situated throughout the airport, as well as wireless Internet.
Parking:
There are several multi-storey car parks at the airport.
Departure tax:
None.
Website:
www.narita-airport.or.jp/airport_e
Tokyo International Airport
IATA Code:
HND
Location:
The airport is located 8.7 miles (14km) south of Tokyo.
Time:
GMT +9.
Contacts:
Transfer between terminals:
The three terminals are connected by an underground walkway; there is also a free shuttle bus running every five minutes.
Transfer to the city:
There are both railway and monorail connections for getting into Tokyo from Haneda Airport. Nonstop express routes take roughly 16 minutes to get into downtown Tokyo.
Taxis:
Taxis are available at the airport, with taxi stands outside each terminal. Taxis into town tend to be very expensive, however.
Car rental:
There are car rental facilities in the airport, including Japaren, Nippon, Nissan, and Toyota.
Facilities:
Services and facilities provided at Tokyo Haneda Airport include wifi, currency exchange, ATMs, disabled facilities, hair salons, banks, a post office, medical clinics, baggae storage, a lost and found, and nearly a dozen information desks.
Parking:
Long and short-term parking is available in four parking lots adjacent to the terminals.
Departure tax:
A departure tax of ¥2,040 is included in the ticket price.
Website:
www.tokyo-airport-bldg.co.jp/en
Visit worldtravels.com for the full guide to Tokyo. Build a complete Tokyo travel guide and email to your clients - sign up for a trial subscription of World Travels Pro.
Tokyo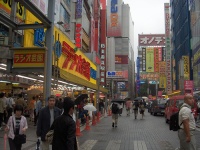 As a modern city Tokyo, the capital of Japan, could be described as too good to be true. People dress in the latest gear, excellent restaurants serve up delicious food of all varieties, and the trendiest nightclubs keep things hopping. The public transport system is punctual and one of the most efficient in the world; and shops and vending machines provide necessities and luxuries both day and night. All this is achieved in a city that is home to 12 million people, amid the confusion of bumper-to-bumper traffic, flickering neon signs and a crush of humanity packing subways and sidewalks. In the crush and rush Tokyo remains, remarkably, one of the world's safest cities with a low crime rate and local people who are only too willing to spare the time and effort to assist a stranger.
With such a dense population, Tokyo is an urban maze of buildings that jostle for space in an unplanned jumble of grey concrete, which makes parts of it ugly and drab. The city fills a huge area that seems to go on forever, with no specific city centre, but rather a succession of districts grouped together. In the back streets, where timber houses line narrow lanes, there are reminders that this is exotic Japan: kimono-clad women prune bonsai trees and colourful neighbourhood festivals take place.
The city is an exuberant experience for visitors. It also hosts many museums and is the largest repository of Japanese art in the world. Then, of course, it would take forever to exhaust the shopping possibilities in this megalopolis. The more one explores Tokyo the more it becomes obvious that one cannot judge a book by its cover. Inside the modern buildings the cultural life of Japan is very much alive and well. Interiors reflect the tranquil minimalist Asian style and taste of Japan.