Airport
Abu Dhabi International Airport
IATA Code:
AUH
Location:
The airport is 20 miles (32km) east of Abu Dhabi.
Time:
GMT +4.
Contacts:
(0)2 575 7500 (Main switchboard).
Transfer between terminals:
Abu Dhabi Airport has a city terminal where passengers can check in up to 12 hours before a flight, and then be shuttled to the actual airport. The 3 terminals at the airport are within walking distance of each other.
Transfer to the city:
Taxis are readily available (rates are fixed for trips to the city centre) while bus 901 goes to the city and stops outside Arrivals at terminal 1 and 2. It operates on an hourly basis, 24-hours a day and a single ticket costs 3 dirhams. Limousine taxis are located outside the Arrival halls of Terminals 1 and 2. Two major companies operate from the airport, namely Fast and National Taxi companies. CityHoppa runs shuttle vans and private cars from the airport to Abu Dhabi city centre.
Taxis:
Al Ghazal Taxis are readily available outside the arrivals hall and rates are fixed for trips to the city centre, costing around 70 dirhams. The journey from the airport to Abu Dhabi takes approximately 30 to 35 minutes.
Car rental:
Car rental companies represented at the airport include Thrifty, Avis, Budget and Europcar.
Facilities:
The City Terminal offers a business centre with Internet access; showers; ATMs; a duty free shop; restaurants and a VIP lounge. First class and business class passengers can use the terminal for free; economy class passenger fees range from 25 to 70 dirhams. Facilities at the airport itself include duty free shops, a meet and assist service, a VIP lounge, pharmacy, medical service, ATMs, bureaux de change, restaurants and cafés, a business centre and post office. Facilities for the disabled are good.
Parking:
There are many parking options at Abu Dhabi International Airport: short-term parking is conveniently located near the terminal and costs AED 10 per hour, daily parking is available for rates ranging from AED 800 for four days to AED 1,190 for a week, and long-term parking is charged at AED 120 per day (the long-term lot is serviced by free shuttles to the terminals.
Departure tax:
30 dirhams.
Website:
www.abudhabiairport.ae
Al Ain International Airport
IATA Code:
AAN
Location:
8 miles (18km) northwest of Al Ain
Time:
Contacts:
Transfer to the city:
Car rental:
Facilities:
Parking:
There is free parking located across the road from the terminal.
Departure tax:
Website:
Visit worldtravels.com for the full guide to Abu Dhabi. Build a complete Abu Dhabi travel guide and email to your clients - sign up for a trial subscription of World Travels Pro.
Abu Dhabi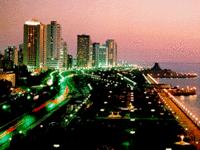 The brash, bold city of Abu Dhabi is a modern marvel, capital of the wealthy United Arab Emirates and headquarters of the world's richest oil operating companies. The pulsating city, with futuristic skyscrapers and wide tree-lined boulevards, is capitalising on its sophistication, amazing duty-free shopping zone, its luxury hotels and top class transport and communication infrastructure to attract tourists. They come not only for the 'retail therapy' and glitz, but also to explore the fascinating culture of the vast Abu Dhabi Emirate itself (it is the largest of the seven Emirates), with its miles of desert and interesting oases.
The city is almost an island, jutting into the Persian Gulf, with land having been reclaimed from the sea to make way for a long seafront Corniche, lined with lush gardens and gushing fountains. It is a relatively young city, the area having been first settled by nomadic tribesmen in the mid-18th century; it remained little more than a fishing village until oil was discovered in the 1950s, and the financial and trading boom began.
Today the international airport and deep water port bring in visitors from around the world, most clutching credit cards and cash, set on spending as much as possible in the enticing shopping malls and buzzing souk (market). Limousines are a common sight in the congested streets, and restaurants offering the cuisine of many nations do a roaring trade, especially along the waterfront. Shopping fever is at its height during the annual Shopping Festival held in early March. Those taking a break from modern luxury can escape to the desert for a Bedouin feast under the stars, or a camel ride through the dunes.