Airport
Melbourne Airport
IATA Code:
MEL
Location:
The airport is located 15 miles (25km) from Melbourne to the north of the city.
Time:
GMT +10 (GMT +11 from third Sunday in October to third Saturday in March).
Contacts:
Tel: +61 (0)3 9297 1600.
Transfer to the city:
The SkyBus offers a frequent 24-hour shuttle bus service between the airport, the city centre and city hotels. Several public bus services including Frankston & Penninsula Bus Service, Tullamarine Bus Lines and Metropolitan Bus Lines also link the airport to different parts of the city and surrounding areas. Taxis are available from outside both domestic and international terminals, car rental is also available.
Taxis:
Taxis can be hailed outside both the International and domestic Terminals. A trip to the city centre from Melbourne Airport costs around $45. The Victorian Government has made it mandatory to pay upfront for all taxi trips between 10pm and 5am across Victoria. There is a $2.00 taxi parking fee that passengers leaving Melbourne Airport from a taxi rank must pay. Avoid unlicensed or illegal taxi and chauffeur drivers (known as touters). If approached you can call the Victorian Taxi Directorate on (03) 9320 4300 or (toll free) 1800 638 802.
Car rental:
Car rental companies include Avis, Budget, Hertz, National and Thrifty; information desks are located in the domestic terminal areas and offices are on the ground floor of the short-term car park.
Facilities:
The airport has excellent facilities, with a bank, currency exchange, and a variety of bars and restaurants available throughout. The wide variety of airport shopping opportunities includes duty-free. Showers, mobile phone rental, luggage storage and Internet connection are also available. Facilities for the disabled are good.
Parking:
The airport has both long-term open and undercover parking, and short-term car parks, as well as a business car park abutting the South Terminal. A courtesy bus service operates between the open long-term parking and the terminal buildings.
Departure tax:
None.
Website:
www.melair.com.au
Visit worldtravels.com for the full guide to Melbourne. Build a complete Melbourne travel guide and email to your clients - sign up for a trial subscription of World Travels Pro.
Melbourne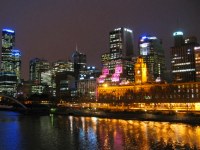 Australia's second-largest city, Melbourne, capital of Victoria, is the most European in style with trams rattling through streets past Victorian buildings, parks and outdoor cafes. The city centre is laid out in a simple grid pattern, the long, wide north-south streets gently sloping down to the Yarra River, crossed by a mix of narrow lanes, and the main shopping streets such as Bourke and Collins Streets. The CBD is easily navigable by foot, and if a rest is needed after a session of sightseeing or shopping there are numerous parks nearby, such as the Royal Botanical Gardens, Fitzroy Gardens and Carlton Gardens. Alternatively, you can take one of Melbourne's signature attractions, a tram. The burgundy-coloured City Circle tram is free, and is a good way to get your bearings as well as explore the inner city, while for those wanting to go further afield the tram network extends about 10 miles (15km) into the Melbourne suburbs.
Melbourne's population of over three million is made up of a variety of cultures, including Chinese, Italian, Vietnamese, Lebanese and Greek, who have all added their touch to this thriving city. A fierce rivalry exists between the cities of Melbourne and Sydney, but local residents bask in the satisfying knowledge that Melbourne beats Sydney hands-down on the cultural front, noted for its wide variety of high standard performing arts, as well as its sport. The city plays host to world-renowned sporting events like the Melbourne Cup, Australian Open Tennis and Qantas Australia Grand Prix. Around the city, within an hour's drive, there are numerous places worth visiting, including the Macedon Ranges, which is Australia's spa capital with its world-renowned mineral springs, as well as the spectacular Great Ocean Road along the coast, which passes stunning rock formations such as the Twelve Apostles. One of the most popular self-drive routes for tourists to follow is the circular Great Southern Touring Route, which includes spectacular scenery and takes in some of Victoria's most beautiful, scenic and cultural attractions.